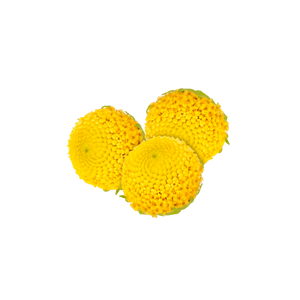 Sechuan Buttons® is the Koppert Cress brand name for an edible flower. An 'electric' experience. It starts with a champagne-like feeling on the tip of the tongue. Then a tingling and numbness on the entire tongue and inside of the cheeks with a flood of saliva. In short, an experience you will never forget.
Sechuan Button is often used as an infusion in cocktails and appetizers. The taste of Sechuan is flavoring, neutralizing. Given the intense mouth experience, we advise you to pay extra attention to the preparation and wine / food combination.
Sechuan Buttons are found in both Africa and South America and probably date from before the time when these continents were separated from each other. The name refers to the taste sensation, similar to dishes from Chinese Szechuan cuisine.
Sechuan Buttons are available all year round and can be stored for up to seven days between 2° and 7°C. Produced in a socially responsible way, Sechuan Buttons meet the hygienic standards in the kitchen. You can use this product immediately, because it is grown in a clean and hygienic way.
Sechuan Buttons® - Tray: 1 x 30 pcs