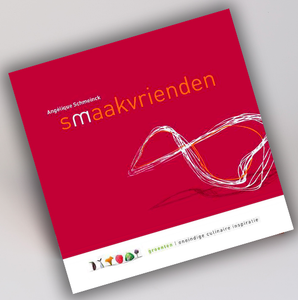 Whether you are a foodie, food professional, top chef or enthusiastic amateur chef: there is always an opportunity to meet new taste friends. Angélique Schmeinck challenges you to break through your own culinary boundaries with this book. Get ready for a taste adventure like you've never tasted before!

What makes a really good dish, and what keeps a good dish real? Those are of course the best ingredients, but especially their mutual friendships in which they mutually reinforce each other. Now take the tomato. Everyone knows that it has been close friends with mozzarella, basil and olive oil for years. The apple is just as devoted to celery, nuts and raisins. Yet there are countless ingredients and preparations that are less known to maintain close friendships with each other. In this new edition of Smaakvrienden, all these relationships have been clearly mapped out through culinary mind maps, with the most popular fruit and vegetables as a starting point.

With Smaakvrienden you literally have taste and inspiration in mind. How convenient is it if you can immediately see what you can put on the table today, with the best match of ingredients and preparations presented crystal clear and attractive? Guts and your own taste judgment become your most important kitchen utensils, because recipes are no longer necessary with the inspiring taste combinations of Smaakvrienden. Step into the creative culinary world of master chef Angélique Schmeinck!

For Angélique Schmeinck, cooking is always more than the kitchen: she writes, presents, experiments, creates, photographs and inspires to transcend the boundaries of the culinary. With her books, cooking shows, edible paintings, balloon restaurant and culinary gallery, she deepens her culisophie, in which art and craft merge into the most amazing dishes and the tastiest inspirations.